Any properly thought out SEO strategy includes in-depth competitor analysis, an analysis that goes far beyond just looking at backlinks and into the heart and soul of the competition's digital footprint. You have to know what your competitors are doing from every angle.  What keywords are they ranking for?  Who is their target market? What does their customer base look like? How are they engaging in social media?  Are they doing any paid marketing?  In order to dominate your competition, you have to know what they are doing and how, with market research and competitive intelligence so you can attack from all sides.
One of the tools I use religiously to do my competitive analysis is SEM Rush.  Here is an overview of the modules I use and how them to analyze the competition.
Step One:  Keyword Research
Before you can understand who your competition is, you need to understand which keywords you're planning on targeting on your website.  Based on these keywords, you can then figure out who your direct competition is and analyze each to gain a competitive advantage.
Using SEO Keyword Magic (SEM Rush)
Advantages:
You can quickly and easily sort your results based on volume, keyword difficulty & CPC
You can easily view the SERP for each keyword
You can group keywords into niches
Get an extensive list of keywords in a single file (up to 1 million)
You can export to CSV
Disadvantages:
You can't assign a locality to get the number of local searches for non-geo specific keywords
Using Google's Keyword Planner
Advantages:
You can get local search volume for a particular city or locality
You can export to CSV
Disadvantages:
You sometimes get a large volume of keywords that aren't relevant to your seed word which can make scrubbing the list a long and sometimes tedious process.
Step Two:  Identifying Your Competitors
When trying to figure out who your top competitors are, it's important to remember that your competition offline and your competition online aren't always the same.  When we think of competition from an online perspective, we're thinking in terms of who ranks above you for your most important keyword phrases.
Do a Google search (**be sure to use incognito) for each of your top 10 keywords. Write down the websites that rank in the maps section, then write down the websites that rank in the top 5 organic positions.
Step Three:  Start Analyzing
Now that you've identified your online competition, and their strengths and weaknesses, you can start analyzing each competitor's website to figure out what they are doing right to earn their top rankings and figure out what you can do better in order to rank above them.
SEM Rush Tools
Domain Overview:
The Domain Overview feature allows you to get an overall snapshot of how your competitor is performing online which helps to give you a competitive advantage.
Using "Domain Overview", you can get a general sense of how much traffic your competitors are getting from organic search & paid search, as well as how many backlinks they currently have: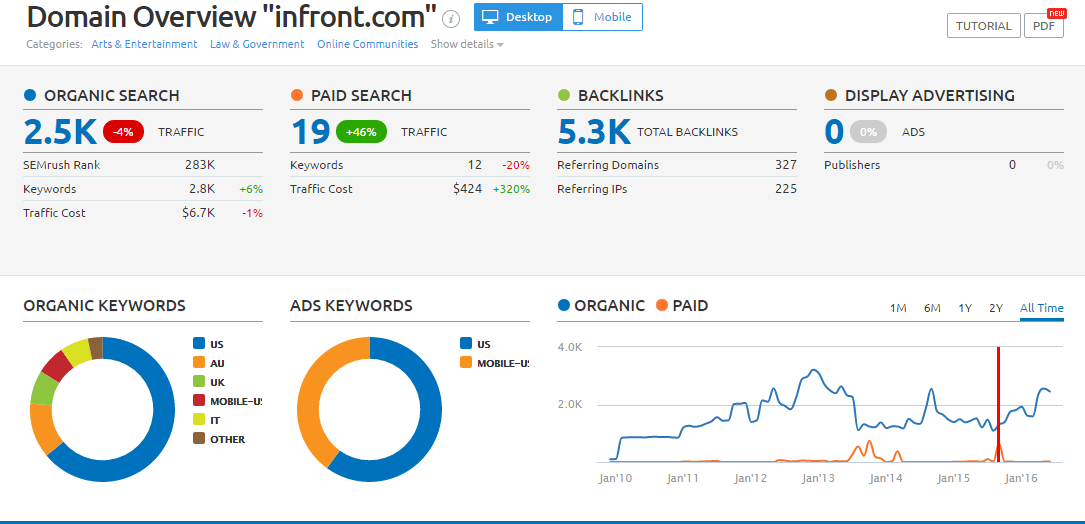 You can also see their top organic keywords & their organic ranking distribution:

Get a sense of branded vs. non- branded traffic:

Find out what keywords they are targeting in AdWords and how their ads rank:

Backlinks:
Obtaining high quality, relevant backlinks to your site is one of the most important things you can do to help your site gain more authority and achieve higher rankings in the search engines.  By analyzing your competitor's backlink profile, you can see where they are getting links and try to get some of those same links for your website.
With SEM Rush's Backlink tools, you'll be able to see the following information about your competitors (as well as your own) links:
Total number of backlinks
Number of referring domains
Number of referring IPs
Number of follow and no-follow links
Type of link (text, image, etc.)
A list of the backlinks for any given domain
Anchor text for each link
Number of external links and internal links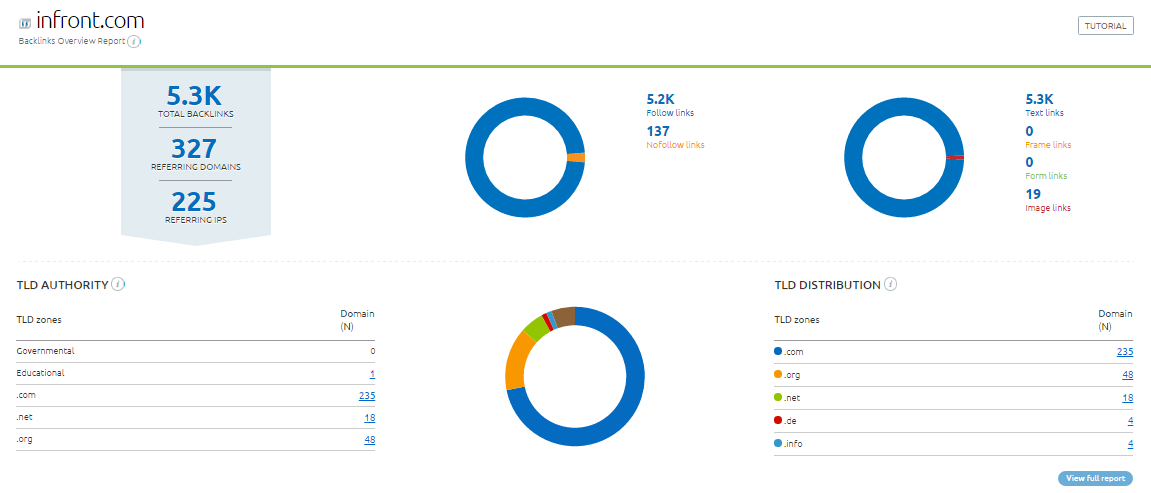 Backlinks comparison:
With the backlinks comparison tool, you can compare the links of up to 5 different domains.  This is a great tool for monitoring your progress against your competitors as well as another avenue to see their link profiles.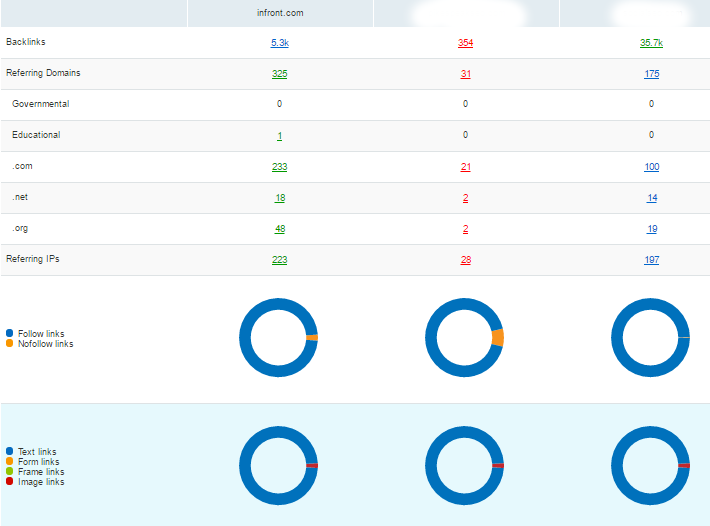 Step Four:  Develop Your Strategy
Now that you've gathered all this data on your competition it's time to create your plan of attack, but where should you start?  Now that you know what your competition is doing, what steps should you take to increase your traffic and rankings?  The answer is, it depends.  There are a lot of different factors that come into play when it comes to achieving top ranking.  These are the areas I would focus on:
Build up your content footprint – By now nearly everyone on the planet has heard the phrase "content is king", and it's true. Content is how Google determines your relevancy to any given search.  How well does your content answer the question posed by the searcher?  The more relevant you can make yourself to a specific topic, the better you will rank for keywords related to that topic.  Your keyword research is a great starting point, but it's also important to understand the questions people are asking about those keywords.  If you need ideas, check out answerthepublic.com.  You can put in any seed word and find out what questions people are asking about that subject.  Here is a sample result for a query I did for "water damage":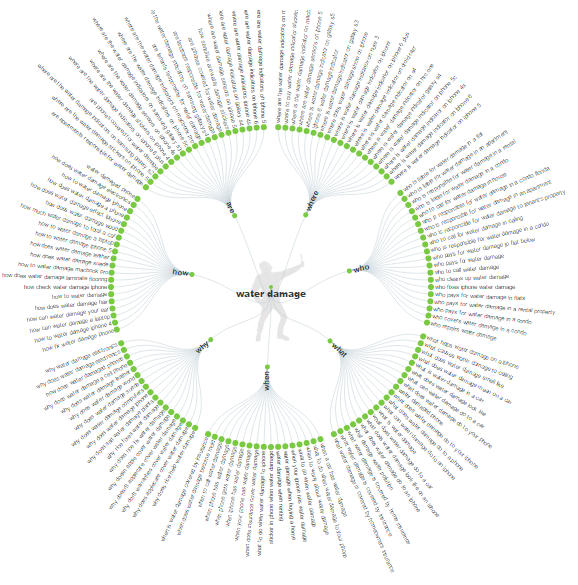 If you don't already have a blog on your site, today is the day to start one.  Think of your blog as an in-depth FAQ section for everything related to your business.  Here you have the ability to constantly add fresh content to your site, but it also provides you with opportunities to target additional keywords.
Build up your backlink profile – Building links can be challenging, but in order to build the authority of your domain, you have to do it.  Here are a few ideas to get you started:
Try to get links from sites with authority in your niche.  Find the sites where the top sites in your industry are linked from and figure out how you can get links from those sites.
Ask for links from people in your industry with whom you already have a relationship
Do some guest-blogging
Submit your site to relevant, niche or local directories
Onsite Optimization – After you complete your competitor analysis, do a thorough audit of your current on-site SEO and make any adjustments to the most important elements to ensure your pages are optimized properly for your most important keywords.
Reviews – Although this is especially important for businesses trying to rank in local markets, getting reviews should be an integral part of any online marketing strategy.  Because consumers tend to research companies prior to making purchasing decisions, ensuring that your company is consistently getting positive reviews across the web can not only help your reputation and conversion, but more positive reviews can also result in better rankings.
Step Five:  Track Your Progress by creating a project in SEM Rush
Here are some of the things you can do when you create a project in SEM Rush:
Track your rankings vs. your competitors'
Check your site's health
Track optimization progress
Keep track of Social Media campaigns
See what your competition is doing on Social Media
Track backlinks
Step Six:  Rinse and Repeat
Competitor analysis is an ongoing process and should be an integral part of your SEO strategy.  Search behavior changes often so you should be doing keyword analysis every couple of months to see if there are new keyword opportunities in your niche. Competitors are also ever-changing.  New businesses open on a daily basis and existing competitors have SEO strategies of their own. This means that it's imperative that you keep up with the changes happening and make adjustments accordingly.
See SEMRush's 2017 Case Study of Infront Webworks.
Save
Save