Content Loops – A Scalable SEO Strategy for Sharing and Distribution
Content is the king of your marketing initiative. Yet if nobody shares a great piece of content, it sits there, gathers dust.
Before you ever produce a content piece, you need to make sure that you're also looking into the mechanism of the content loops.
Elements of a Content Loop
A content loop is a closed circle that acts as a virtuous cycle for your content.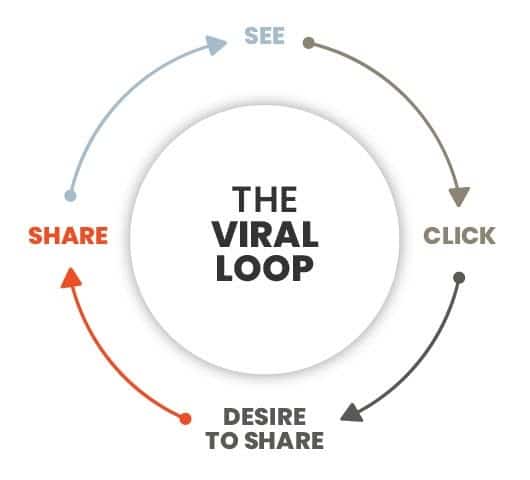 Fractl calls it the 'Viral Loop'.
Before you ever produce any piece, make sure you do the following –
Make the content visible first:
Once you write the content, first you need to get the eyeballs of your target audience.
Create the desire to click:
Does your headline have the emotional connection that forces your target audience to click on the article (to check for their own knowledge & understanding).
Include the viral element in your piece:
There's a clear distinction between the number of content pieces you browse, read and the number of pieces you share. Here are the two aspects you need to keep in mind –
Does your content piece have an interactive element that assists your audience to create a particular result? (If yes, the desire to share would be higher and vice-versa)
Does the piece have a strong call to action that probes your readers to share the piece with their family, friends, and colleagues?
Finally, make sure that your readers share the piece:
If the readers need to take two-three more steps to share a piece, most probably they never will. It should be super-easy for your readers to share the content piece you've produced.
Let's examine how we can create content loops and implement the strategies required to succeed.
Strategies to Create Content Loops
As a marketer, you should know how you will trigger creating content loops.
Meaning, before you write a content piece, you should know how you and your team will share and distribute it.
You could be all over the place – but that will only make things complex.
It's best to pick one channel and figure out what triggers a content loop in that particular channel. And then proceed with the next one.
Let's look at two channels – SEO and Social Media and the strategies required to create the content loops.
SEO – A Scalable Strategy to Create Content Loops
When you would like to create content loops for the content pieces you write, you need to determine a strategy before you produce any content piece.
The best strategy to create content loops is to launch a blog that attracts high-quality backlinks from authoritative websites.
Here's a simple example to illustrate that –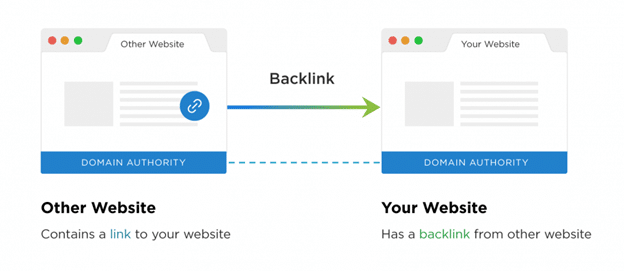 When a website inserts a link to your website into the content they produce, you earn a backlink.
When a particular content piece earns more backlinks, Google promotes that content piece in the search results. Not exactly, but this is one of the key elements of SEO. Hence, the particular content piece becomes more visible to your target audience. And the chance of creating the content loops increases.
Here's how you will ensure that you earn a lot of high-quality backlinks from authoritative websites –
Use Skyscraper Technique:
This single technique can multiply your backlinks from authority websites. Here are the steps –
Pick a keyword you want to rank for and pull a list of websites that have written an article on this topic.
Investigate these articles for various metrics like word length, readability, usefulness to the reader, visual expression of the topic, etc.
Now, write a content piece on the same topic, but make it 10X better than the competitor pieces you have investigated.
Finally, study the backlink profile of each of these competitor pieces. Reach out to the editors and content managers of the various websites that are linking to your competitors and ask for a link to your piece which is visibly better than the content they have linked to.
Focus on these content formats:
BuzzSumo studied more than 1 million blog posts and found that 75% of the blog posts earned zero links. However, a few formats did exceedingly well. Here are the content formats that generated quality backlinks –
Videos
Quizzes
How-to Posts
Why Posts
List Posts
These are potential content formats that you must invest in.
Write long-form content:
The long-form content tends to perform much better in Google's ranking than short-form content. When you write in-depth, long-form content, your chances of creating a backlink increase.
Backlinko searched 11.8 million search results and they found that when you write a content piece of 1890+ words, you tend to rank that particular content piece higher in the Google search result.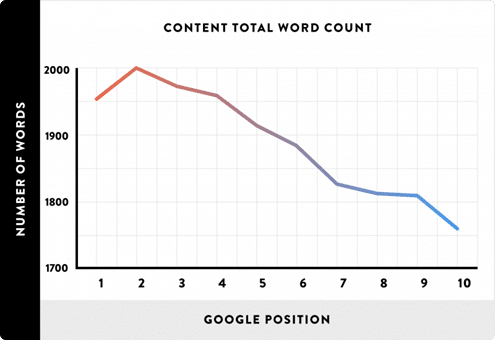 Building quality backlinks from authority websites will help you trigger content loops. And your content will be shared and reshared more than you'd ever expect.
Now, let's see how you can leverage social media to create content loops.
Social Media – Leveraging the Right Triggers to Create Content Loops
When we talk about social media, we have to consider Facebook, LinkedIn, Pinterest, YouTube, Instagram, etc.
Creating content loops on these different platforms requires varied strategies. What may work for Facebook may not work for LinkedIn.
The best bet is then creating a social media loop for the relevant platforms.
Here's what the social media loop looks like –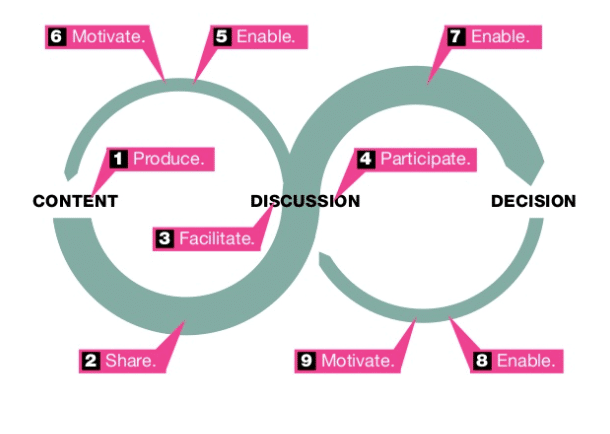 On social media (any platform), the most important elements are – content, discussion, and decision.
If you can master these three keys, creating content loops for any social media channel would be a piece of cake.
What's a good piece of content? A good piece of content encourages discussion.
What does good discussion do? It helps your audience take the right decision.
What does the right decision do? It creates more discussion.
What does good discussion around the decisions do? It helps you create more content.
How do you trigger discussions? You may have to seed the discussions first by tagging or reaching out to social media accounts that may be passionate about the topic.
Ultimately each element of the social media loop feeds each other and looks like the following –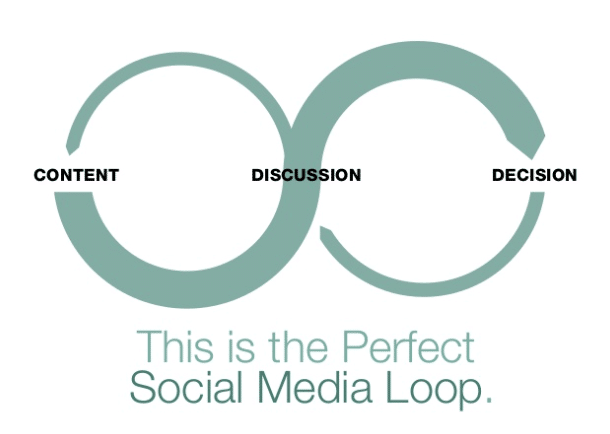 The reason you should use social media to create content loops is two-fold.
Firstly, you should have an idea about the conversion rate of the content pieces you create.
[Here conversion rate means a percentage of your readers that share your content with their colleagues/friends]
Secondly, whether the content loop is ultimately translating into a sale or a signup.
That's why when you use social media loop to create a content loop, another loop that you need to take care of is the acquisition loop.
Here's how the content loop and the acquisition loop come together –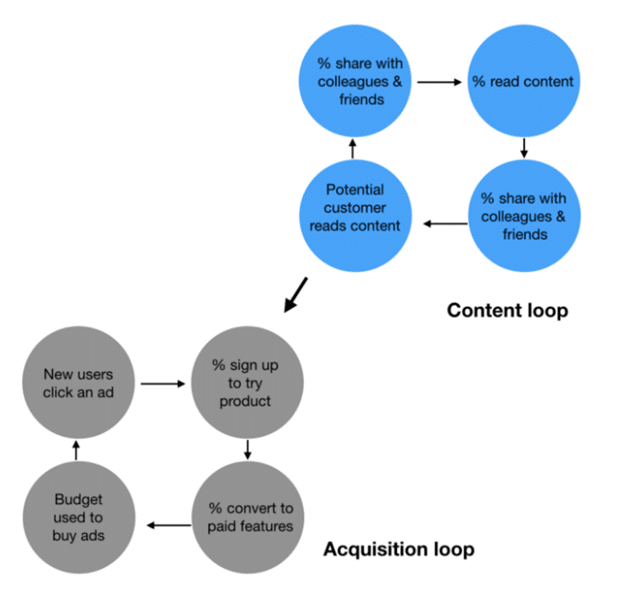 When you embed the content loop and the acquisition loop together, you'll see the acquisition loop will also give you insights about how you can create more content loops which will ultimately help you get better conversion rates (more email sign-ups or sales).
A Practical Example of Creating Content Loop
When Casey Winters joined Pinterest, it only had 200 employees and 40 million active users.
By using the content loop and a solid SEO strategy, he brought the company to 200 million active users (a whopping 5X growth).
Here's what he did –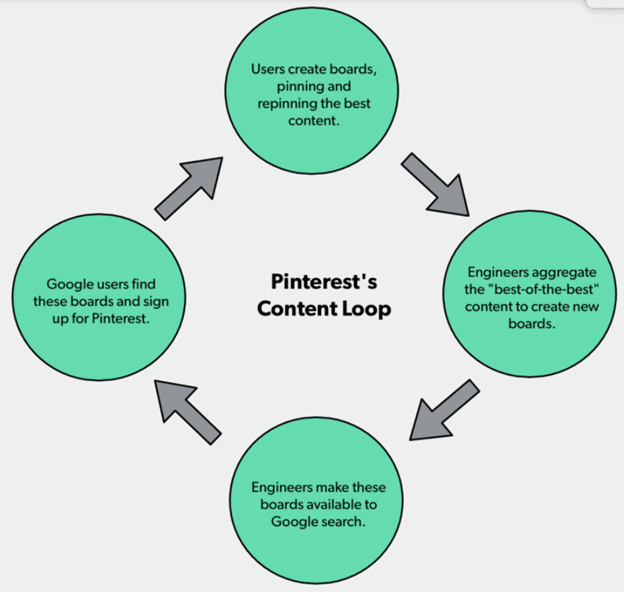 By using a killer SEO strategy, Winters made sure that the pinboards rank well on Google.
Then the engineers of Pinterest selected the 'best of the best' pinboards and made sure that these 'best of the best' pinboards also rank well on Google.
Better Google ranking attracted new Pinterest users since they could find the boards on Google.
This virtuous cycle helped both the old users and new users create content for Google ranking, making them active users on the platform.
Tools to Invest in, for Creating More Content Loops
As you can see, creating a content loop needs a lot of preparation and work along with creating epic content.
If you want to scale your effort, it's wise to invest in the right tools.
Once you get the right tools, you would be able to automate some of the parts of content loop creation.
Let's have a look at some of these amazing tools.
Sales Automation Tool 
When you try to build links for your website, you need to reach out to various authority websites, bloggers, founders of digital marketing companies, etc.
What if you have a sales automation tool, your sales team would be able to follow up exactly at the right time (without any delay).
Its cloud-based real-time engagement updates would help your team qualify and nurture leads better.
Social Media Scheduling Tools 
When you create content for social media, you may want to use batching. That is, you can create all similar types of social content in one go and then hit publish.
For this, you need a social media scheduling tool that can post your content at the right times without manual intervention.
There are plenty of online social media scheduling tools that you could look into for this purpose. Some tools come with in-built image editing features that make it easy for you to produce high-quality visual content for social media channels. In other cases, you may have to invest in other specialized tools for this purpose.
In the final analysis, with the right strategies and right tools, you'd be able to create content loops for every content piece you produce.