Do you sell a product or provide a service, do you have one or many "competitors" within your space, do you have a website? If you answered "yes" to any of these questions, then you need to start doing competitor keyword research. Not only will it help improve your site, but it could also help improve your rankings. If you sell something somewhat generic like home appliances or provide a service like lawn care to a large city, you have a lot of competition from national brands to local mom and pop shops. So how do you stay ahead of the game? You create your own strategy with the knowledge of your competitor – this isn't to say copy everything the guy down the street is doing on his website. What we're saying is; see what's not working on your site and what is working on theirs and use it to your advantage – as the saying goes "knowledge is power". It could be something as simple as using a less technical term for your title tag, or using more long-tail "geo-based" keywords.
Where to Start
First do your own keyword research. Use the FREE Google Keyword Planner tool to your advantage! Type in the keywords and phrases you think people would use to find your site, use targeting that works for your brand/product. If you only serve Colorado and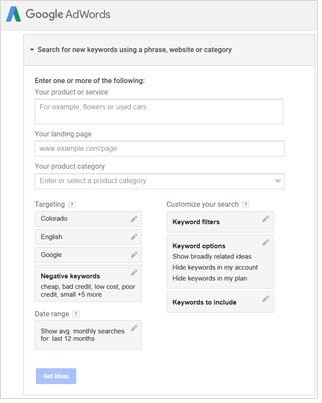 you want to avoid keywords that include "cheap" or "bad credit" enter that here. Once you're done entering all the variations you think relate to your site hit "Get ideas" and Google will provide you with similar keywords to those you provided, as well as the number of searches for your keywords and their suggestions.
Next, look at your top 3 competitors. You can do this manually by looking at the visible title tags and page content (which will take you a while) or you can use a variety of free, freemium, and paid tools/services to speed things up. Most of these tools also allow you to schedule or manually pull reports on your site versus the provided competitors – so these are probably your better options. Some of our favorites include SpyFu, Ahrefs, and SEMrush (read more about using SEMrush for Competitor Analysis HERE). Don't set these up and forget about them, they can be useful tools beyond your initial keyword and competitor research.
Execution
Once you've figured out what the competition is doing, consider which keywords they target and are using that you're not, and how those fit into your strategy – sometimes they won't. It could be that you've been targeting only the keyword "mortgage" when a more common term is "home loan", don't negate mortgage as a keyword, simply add a home loan to your title tag, meta tag (if possible), and within your content. Consider the way your content is written as well, most importantly don't duplicate content (i.e. don't make a mortgage page and a home loan page where only the single keyword is switched out, Google is smarter than that), next don't overcomplicate things if you can avoid it, in some cases there are legal standards but, in most cases, consider your audience and write to the lament. Finally, write like a human! This isn't the year 2000 SEO where the exact phrase "plumber Colorado Springs" needs to be incorporated every 15 words, Google understands semantic (similar) content and keywords and so does your reader. Everything in SEO is done in part for the SERPs but also for the user, your customer.
Wrapping it Up
To bring it all together, keep an eye on your competitor. Whether your current goal is position zero or just to get to page 2, knowing what other sites similar to you are doing is helpful and will provide that extra edge you're looking for. If you're a small DIY shop maybe the manual route will work for you, taking your time and looking at the competitor page by page. But maybe you're a little more driven, then try a tool like SEMrush and build your competitor's keyword strategy into your own. Never lose track of your strategy, simply add to it. Keyword research and implementation are easy wins! Once the research has been done, and the time put in – it's as simple as updating a title tag and meta tag and updating the page content. Small things you can do today to make a big impact on your website in the future.