MEETUP.COM ANOTHER TOOL FOR YOUR SEO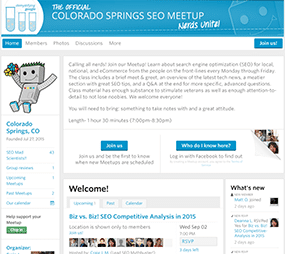 The Internet is a big place. Correction—the Internet is a gargantuan place teeming with data from a plethora of sources. If you thought competition was heavy in the local yellow pages, try waging a war on the web with businesses across the world.
Still, local SEO is important. MeetUp.com is a social networking site made to bring locals together with like-minded interests. The websites main page features a search tool where you can narrow down the subject you're interested in within your community. From Colorado Springs SEO to yoga, there's literally a MeetUp for everything.
Wherever your hobbies and interests lie, MeetUp a great place to connect with others in your field. It's a cheap marketing strategy and it's the best way to directly reach the target market within your area.
DoFollow Links
When a website has a DoFollow tag attached to an external link, it means that link will gain a certain amount of "link juice" from the website it was posted on. Within each MeetUp you join on Meetup.com, you have to create a unique profile to fit each group.
On any profile you make, you have the option to place an external link to your website. Every link is a DoFollow, so each profile you make boosts your chance of climbing the page ranks, even if only by a little. External links, especially DoFollow, are a vote of confidence in your website from an outside source. It's a big factor in determining your overall page rank.
Utilize Anchor Text
It's important to use proper anchor text when linking to your homepage or any internal pages on your website. Anchor text is helpful to readers and any group members on MeetUp who may want to learn more about you. You can use target keywords (though remember to switch them up a bit on different profiles) to boost the credibility of your backlinks as well.
So long as you don't spam the same link over dozens of unrelated MeetUps, you will see the SEO benefits this social network platform has to offer. Make each profile unique, and be sure to join MeetUp's relevant to your brand or business to instill trust in your potential clients.
Meet With Clients in Person
Marketing your brand on the Internet to gain potential clients can create a sense of detachment when there is no face to the name. Sure, there might be a picture of you on the website, but there's something about a face-to-face interaction that really makes all the difference.
With Meetup, you can do just that: Find local clients who are interested in your services. Or, for the Meetups you join, get some business cards ready with a link to your website.  You never know what kind of connections you can make. Like-minded people might just need the service or product only your company can provide.
Plus, by meeting with potential clients in person, you can encourage them to find out more information by checking out your website. It's the most direct way to get organic traffic and you might just make some new friends along the way.