Last year I wrote an article about this very subject, but as we all know social media is an ever-evolving medium, and as such, the way to delete duplicate Google plus pages has changed since last year. Fortunately for us, the process has improved. Therefore, I am updating this blog with a new post on this most elusive task.
So you're cleaning up the presence of your business on social media. You come to Google+, do a search for your company, and notice that there are several pages for your business. "Did I create all of these?", you ask yourself. Maybe, but you don't have the login to the accounts that were used to create them, so you can't get in to delete the ones you don't want, or to update them with new information. So what do you do?
Step 1: Visit the page in question. To find all duplicate listings of your business, or if you don't know whether or not your business has duplicate Google plus pages, and you want to find out you can easily do this by visiting Google+ at www.plus.google.com. In the text box at the top of the screen type in your business name. Then, in the tab section at the top, just below the text box click on "People and Pages".
Now you will see how many duplicate pages you have. Some may be unrelated pages, some may be duplicates of your business. Check the address, phone number, and other available information to find out which ones are representing your business, and which ones are not.
Step 2: Report the page. Underneath the logo you will see a small upsidedown triangle. Click on this to get the menu option to report the page (see picture).

Step 3: Enter your information. The next screen you will see is a pop-up asking for information. It gives you the option to block the page as well, but you're not interested in that. You want to get rid of it. So don't check the option to block it, just click the options that indicates that this page is impersonating someone or something, and that it is you who is being impersonated (see picture).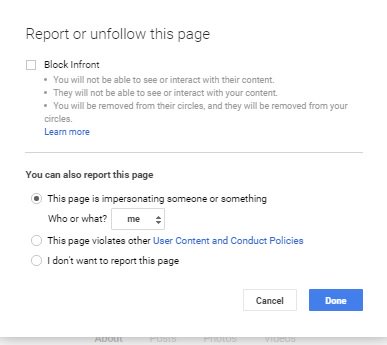 Step 4: Now this is the last step. You will be asked to fill in more details just to prove to Google that you are the business owner, and that you really want the page deleted. Most of this information is quite basic, such as your name, the business address, official website, and things like that, so go ahead and fill it out. Now at the bottom of this form will be something that is not very basic. It will ask you to upload a document that will quench all doubt that you are indeed a representative of the business, and that is either a business bank statement, your business license, or a utility bill in the name of the business (see picture).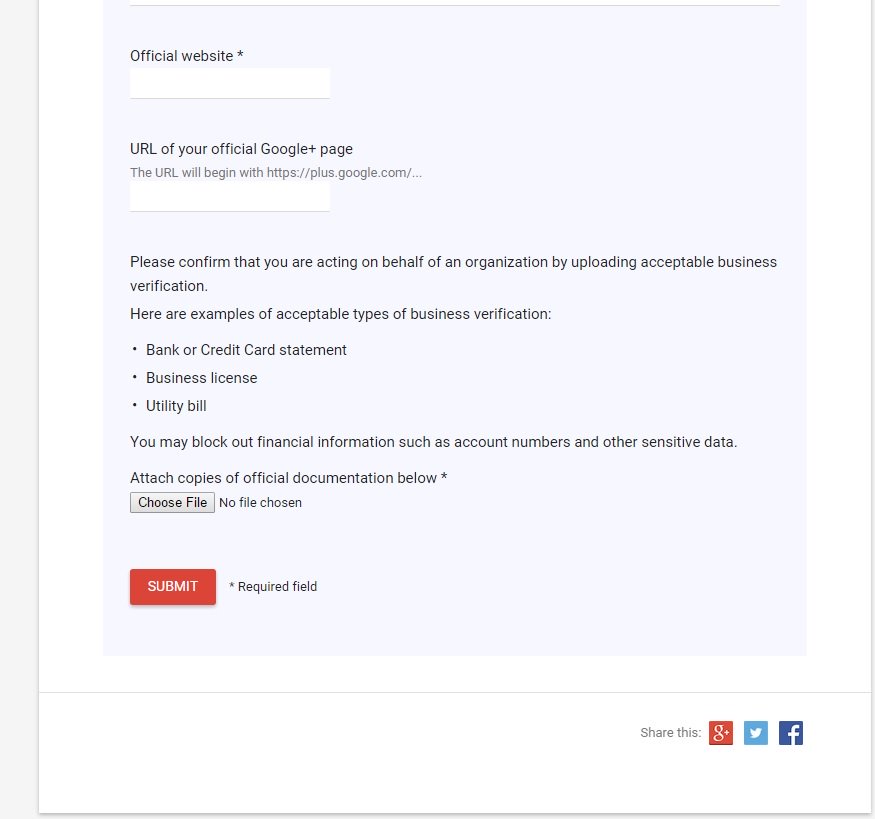 You can upload this document by simply taking a picture of it with your phone, and emailing it to yourself, and then opening it with your computer, and uploading it. Or if you're already on your phone, then it's just a matter of taking the picture and uploading it. Once this is done it's in the hands of Google, but it should take about a month before the page is gone.
Infront Webworks is a web development and Colorado Springs SEO and website development company. If you need assistance with the internet marketing for your business please contact us and make an appointment to speak about your needs!
Sa